There's nowhere better to be than Cape Town for the avid outdoor enthusiast and explorer. Surrounded by nature on all fronts, there's no shortage of outdoor activities to keep you entertained, and it's no surprise that Table Mountain is the heart of adventure in Cape Town. If you're looking for something rewarding to challenge you, these hikes in and around the Mother City will put your endurance to the test. Here are some of our most challenging hikes.
Tip:  Always tell someone where you're hiking, from what time, and when you expect to be back. Be sure to wear the right gear for the job, hiking shoes with a strong grip, and bring your phone with you in case of emergencies. Stick to the designated hiking trails, and keep well hydrated throughout your hike.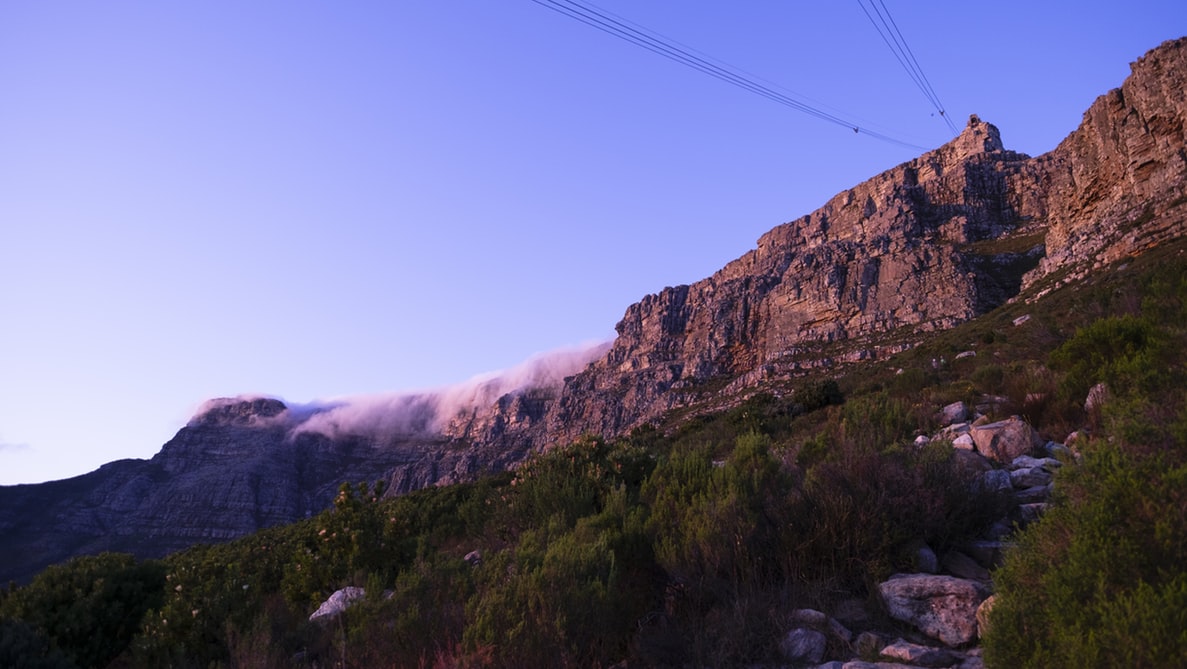 Travel the Path Less Travelled by on the Hiddingh-Ascension via Ferny Dell
Let's kick things off with a hidden gem! Renowned for being one of Table Mountain's most challenging hikes, experienced hikers will love conquering this untouched, secluded hiking trail. It's right in the heart of nature, and due to this, there can be some difficult and treacherous areas of loose rocks and ground. But if you go via Ferny Dell, a lush patch of forest that makes for a great halfway mark and rest stop, it's all worth it for the beauty and sense of accomplishment. Be sure to take the route with a guide no matter how experienced you are, and hike cautiously.
Put your Fitness to the Test at Skeleton Gorge
If Hiddingh is a bit out of your comfort zone, don't fret. We've got the next best thing, and it happens to be right next door. Skeleton Gorge winds through the same forest, with a clear path and steps built-in. But don't be fooled by the steps that make up this hike through Kirstenbosch Gardens and right up to the Back Table. It's a long, steep climb, but at least most of it is covered by a leafy forest canopy, with a stream running alongside to set an idyllic scene. At the top, you'll find a picturesque beach that surrounded the dams, formed naturally over hundreds of years.
Take a Leap of Faith at Suicide Gorge
As steep as Skeleton Gorge is, we don't blame those looking for more of a challenge. Let's draw your attention to another gorge entirely – Suicide Gorge. With a name like this, you know you're in for an intense hiking adventure! And you won't be disappointed. One of Cape Town's most extreme hikes, it's recommended to do this hike with a guide as it can be dangerous even for the most experienced hiker. With many unavoidable daring leaps into icy pools (the name makes perfect sense as you stand on the edge of a ledge peering down at the pools far below), this hike will test both your courage and your fitness. It's important to note that this hike is best during winter when there's plenty of water in the pools to avoid serious injury.
Find your Hand-Hold on the Knife's Edge at Devil's Peak
Knife's edge is another aptly named hiking trail up to the minor summit of Devil's Peak, and it's perfect if you're looking for another challenge! And it's got plenty of daring rock climbing and scrambling to offer. Inexperienced climbers should have a more experienced hiker join them to lead the way and best advise how and where to climb. From Minor Peak, you can choose to keep climbing to the summit, but the trail there is a lot less defined.
Make the Trek to the Top at Platteklip Gorge
Time to end off our list with something a little more moderate! Why take the Cable Car up Table Mountain when you can climb to the summit? Platteklip Gorge takes you from Tafelberg Road right up to the top. It's a short but very steep hike, and you'll want to pack water and refreshments to tide you over on your journey to the top. Despite this, it's the easiest out of our selection of hikes, and you'll likely find the route is popular whenever you hike it. If you're tired after the hike to the top, you can always take the cable car back down again.
Got any challenging hiking trails you can recommend? Which ones are your favorite? We'd love to hear from you in the comments below.