By Tony Lourens
Montagu is a town of immeasurable beauty and character, situated about 180 km away from Cape Town, on the border of the Breede River Valley and the Klein Karoo, surrounded by impressive mountains.
Founded in 1851 on the farm of Uitvlugt and named after the then secretary of the Cape Colony, John Montagu, this little town has grown, over the years, in stature and charm, into one of the most enchanting country towns in South Africa.
Besides the lekker vibe and eclectic people, the town boasts a range of incredible coffee shops, eateries, art galleries, museums, gardens and even its own Odeon movie house. And of course, there is an abundance of beautiful wine farms scattered right across the famous and scenic R62 on all sides of Montagu, ready and waiting, with delicious lunch menus and award winning wines.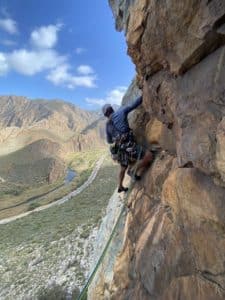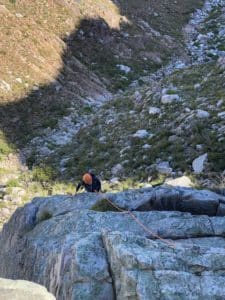 But of course amongst climbers and hikers, the town and surrounding areas is most well-known for its amazing rock climbing and hiking trails. Montagu is one of the mecca's of rock climbing in South Africa, and climbers from all over the world find their way there when visiting South Africa on a climbing trip. There are about 400 bolted routes of all grades and styles, from single pitch climbs to long multi-pitch routes on the huge and impressive walls of Cogman's Buttress. The climbing is scattered across many different crags over quite a large area, and you will always find something to suit your ability and style, whether you are a novice, a weekend warrior, or a seasoned climber looking for hard quality routes to send.
Besides the plethora of sport climbing, you will also find a growing number of traditional routes, also from single pitch gems to the long and wilder stuff on the bigger walls. And all the time climbing in pristine mountain wilderness, with stunning views unfolding in every direction, and if you look up you are almost guaranteed to be gifted with a sighting of black eagles soaring effortlessly from kranz to kranz, gazing down at us puny humans trying to scale the cliffs they call their home.
In addition to all the amazing rock climbing, you can also enjoy a cross section of splendid hiking trails and scrambles, from easy one or two hour strolls, excellent ridge climbs, to huge and demanding 8-hour trails up the high mountains around Montagu, including the iconic ascent of Bloupunt, which at 1266 m high towers 1000 metres above the town.
If it is adventure in the outdoors that you are looking for, then Montagu is just the place for you.
Montagu Outdoor Adventures is based in Montagu, and we are here to show you the best our mountains and town have to offer from hiking to climbing and even a bit of culture.
Give us a call on 082 5506 819 or drop us a mail on tony@samountain.co.za and let the adventure begin. Visit our Face Book page at www.montaguoutdooradventures.co.za
And for more info on general guiding and mountain related tours around South Africa please visit www.bluemountainadventures.co.za
Tony Lourens is a registered mountain and rock-climbing guide and has been involved in this profession for 25 years. He has been instrumental in the development of many new climbing routes in Montagu, and now resides permanently in Montagu with his wife, Patsy, a donkey and a piglet.