Photo: Ferdinand Reus
We go away to "get away from it all" – but quite often we end up taking it all with us. Taking all that bulky camping gear along with you can be a squeeze!
Beyond the obvious tent, folding camping furniture and sleeping bags, there are many other compact alternatives to camping equipment that will make packing for your next holiday much easier. We're talking car camping here, if you're backpacking then most of that gear is optimized for being carried in your rucksack already.
About Tents
Okay, so tents are already fold-up versions of your house – but there are some improvements that can be made when it comes to the space they take up.
Nylon versus canvas
Unless you're hiking, canvas tents are a great investment, and hardy to boot – but they are bulky, and heavy. Dome or bow tents with spring steel poles are much more compact and easy to pitch than their frame-type peers. Canvas tents do offer better protection from the wind, a real consideration if you live in the Cape Province, for example.
Large nylon tents have come a long way, with better poles and designs. Much more compact than their canvas counterparts – nylon tents also weigh a lot less and can fit comfortably into the boot of an ordinary sedan. The downsides of large nylon tents include longevity of materials, price and vulnerability to strong winds and storms. If you want to go the nylon route, then these are good options.
Furniture
As materials have become lighter and stronger – it may be time to ditch that old wooden table or heavy steel beach chair for something lighter and more compact. The Oztrail RV Quickfold camping chair boasts a side table and folds down to a remarkable 75 x 13 x 49 cm!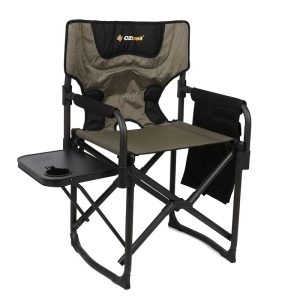 A solid table is essential for food preparation and dining at camp, but they can be cumbersome and heavy. There are many lightweight alternatives around, but if you're looking for something solid yet easy to transport – then check out these beauties from Oztrail.
Sleeping arrangements can range from a simple sleeping bag, but don't forget the critical insulating mat to insulate you from the cold ground. If you like to be off the ground, then consider a stretcher camp bed like this.
Catering is often at the heart of any camping trip. The problem is that you often end up taking everything including the kitchen sink. Fortunately, there are some great compact kitchen setups available these days.
Storage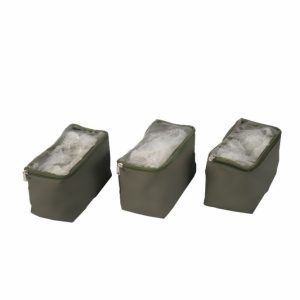 Plastic storage crates are a great way to protect your camping equipment and supplies. In addition, there are some wonderful bags that you can buy to keep everything neat and organized.
Cooking
Traditional gas camping stoves are bulky and heavy. Consider using a portable stove that uses gas canisters instead.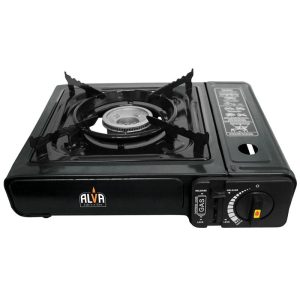 Just remember to keep the canisters below 40° C.
Lighting
With the increased power of LEDs, lanterns have become brighter yet smaller – no need for hauling heavy LP gas cylinders around.
A headlamp is an excellent solution to campsite lighting – hands-free lighting just where you need it.
Many Ways to Save Space
We've taken care of some of the larger, most obvious camping items – but there are many other ways to save on packing space, here are some clever, space-saving camping accessories:
We hope this article on compact camping equipment has helped you out for your future camping trips. Remember to keep an eye on our website or visit your closest Camp And Climb store for new additions to our range.