The art of braaing for campers is a sacred pass-time, and from a young age, South African's are taught the ways of the braai-tongs. There's nothing like kicking back in your camping chairs in front of the fire, watching the sunset on the wild horizon as you cook up a saucy, flavourful array of succulent meats and braaibroodjies, or let a cast-iron potjie simmer and bubble on the coals.
There are few things the braai master hasn't mastered, but we can always learn tips and tricks to keep providing exceptional braai kos. Especially while camping, where our braai tools and resources are often limited. But you can be resourceful, and we've found some brilliant, easy braai recipes to making camp cooking more effortless than ever.
Tip: Don't have a braai on location? Bring your own! There are small, portable braais such as the LK Family Braai or the Char-Griller Wrangler Braai that is perfect for cooking for small groups or families, complete with wheels and racks.
Braai Dogs
Envision the perfect hotdog, prepared in minutes before cooking right on the fire. This is a uniquely different way to prepare hot dogs for a lunchtime snack, rich in flavour and bursting with toppings. It's also neater, with less mess!
Ingredients:
2 Brown Onions, chopped
12 Hot dog rolls
12 Sausages
BBQ Sauce
Butter (Optional)
3 Jalapeno Chillies, chopped (Optional)
Tin Foil
Method:
Slice your rolls down the middle, and lightly butter the insides if preferred. Then, take your sausages and slice them down the full length to butterfly them (don't cut all the way through). 

Next, peel and chop the onions finely, before mixing the onions with BBQ sauce. Add as much as you like. If you're adding chilli, chop them finely before adding them to mix, and stir well. Ladle the onion/chilli mix into the rolls (don't overstuff) before wrapping the hot dogs individually in tin foil.

Place the tin foil dogs around the fire to cook them for 20 minutes, or alternatively put them right amongst the coals to cook for 15 minutes, or until cooked through. Unwrap them for mess-free, caramelised onion chilli dogs!
Tip: Always use tongs to handle hot food on the braai. The Tonglite comes equipped with a built-in torch, making it easier than ever to see what you're doing as you cook. No one wants to fumble around in the dark!
The Cheesiest Pizza Braaibroodjie
Who doesn't love delicious, cheesy braaibroodjies? They're a braai staple, but they're open to experimentation. Everyone's next favourite carbolicious meal is undoubtedly the pizza, and who said they had to be mutually exclusive? Pizza braaibroodjies are packed with your favourite flavours and ingredients, in an easy to eat package.
Ingredients:
2 Ready-made pizzas of your choice
Add your Favourite Toppings with a lot of cheese
Method:
First, get your fire going and wait for it to reach perfect braaibroodjie temperature, typically medium heat.

Then, take the two pizzas, and after placing the toppings on the first pizza, place the second pizza on top of the first, filling sides facing inwards. 

Next, place the pizzas in a

hinged braai grid

and close it tightly, before laying it over the coals to cook. Turn it over periodically to cook the dough through and toast it. Cook until the dough is crispy and the cheesy filling is cooked to perfection. 
Take it off the fire and cut into 8 Pizza Sandwich slices. Serve immediately.
Delicious Braai-Baked Camembert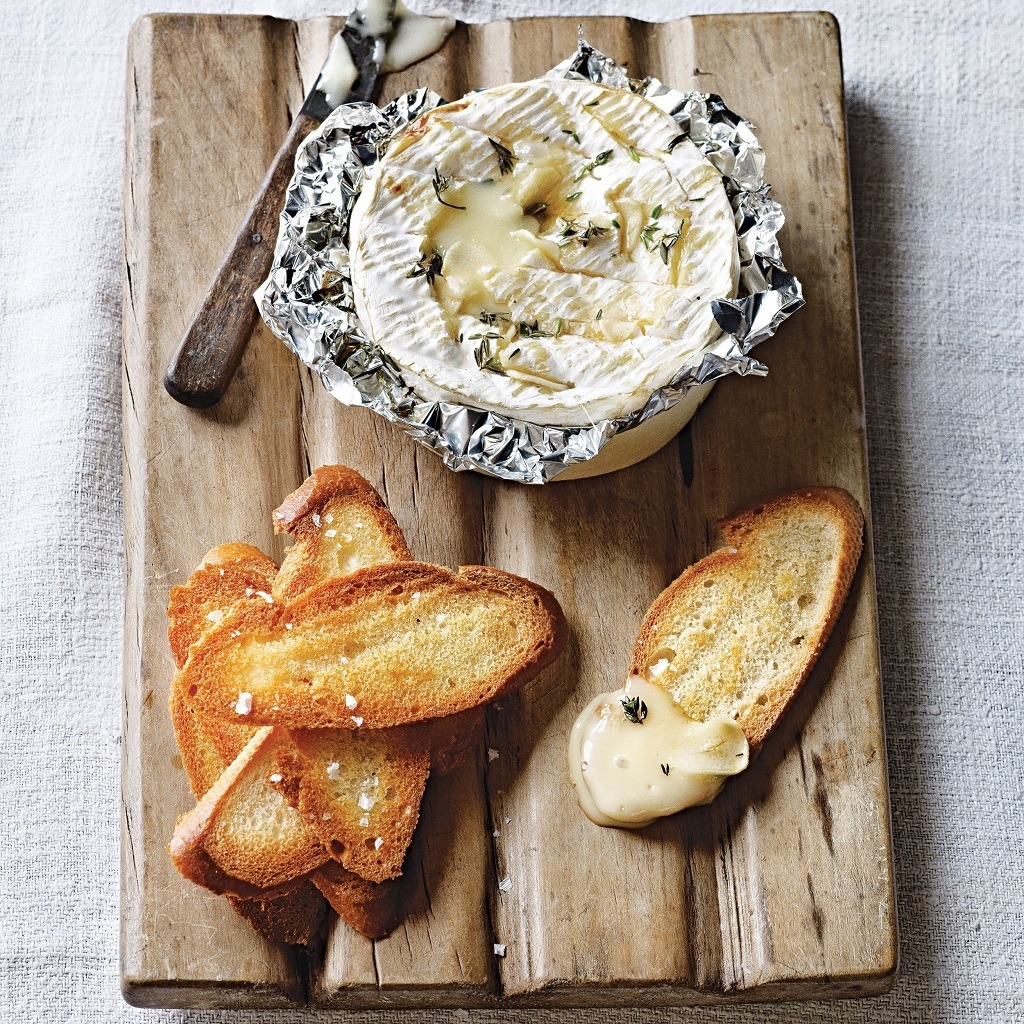 Who said camping meant you had to give up on the finer things? Definitely not us! And what's better than melty, gooey, steaming camembert with your favourite pairing, the perfect dip for pot brood, chips or crackers. It's deliciously simple!
Ingredients:
A small wheel of camembert
Your favourite topping ie preserved fig, onion marmalade, cranberry jam, etc.
Tin Foil
Method:
Layout a sheet of tin foil, then place your camembert in the foil sheet, along with your chosen toppings/fillings. Wrap and fold the foil around them before tucking the foil package into the coals to cook. Check regularly while it's cooking.

Once piping hot and melted, take it out of the coals and carefully unfold the tinfoil. Serve immediately with your favourite snacks or potbrood.
Traditional Beer Potbrood
Speaking of pot brood, there's nothing better than freshly baked bread! It makes for a delicious breakfast, or you can pair it with a saucy potjie. Potbrood is easy to make, and with a great bread pot, your bread is bound to taste better than anything store-bought.
Ingredients:
500g self-raising flour
1/2 teaspoon salt
20-30ml sugar
1 egg
340ml beer
Prefered toppings (optional)
Method:
In a bowl, combine and mix all the dry ingredients. Next, add the eggs and beer before mixing thoroughly. Decant the dough mix into your bread pot, cover, and place in the fire amongst the coals, packing warm coals around it and onto the lid.

Bake the bread for 1 hour before taking the potjie out carefully. Word of caution, be sure to use a

Chef's Grill glove

so as not to burn yourself. Serve toasty and warm with butter and jam or cheese.
Note: If you want to make a cheesy potbrood, simply grate cheddar over the top of the dough before putting the pot in the fire. The bread will rise and the cheese will melt into the crust! The perfect potjie for the occasion can be bought here.
Juicy Bacon and Banana Sosaties
Who doesn't love bacon and banana? But a bacon and banana sosatie is something else! The banana caramelizes and sweetens the bacon as it cooks, and becomes soft but crispy and toasty on the outside as it cooks over the fire. With a recipe this simple, it's easy to try these salty-sweet flavours. So grab your bamboo sosatie sticks and let's get cooking.
Ingredients:
Roughly 1 pack of your prefered bacon to 2 bananas
Sosatie sticks or toothpicks
Method:
On a

cutting board

, chop your bananas into thick pieces. Then take you bacon slices and wrap those around the banana pieces. Then, slide them onto your sosatie sticks/toothpicks, making sure to get it through the ends of the bacon so you don't have dangling bacon.

Then place your bacon and banana sosaties on the grill over medium heat, or alternatively you can fry them on a

flat breakfast pan

to serve with eggs and toast in the morning. Remember to turn them over every so often to cook them through and get the bacon nice and crispy.
Note: You can adapt this recipe to add other ingredients to it, like chicken pieces between the banana and bacon, marinated in your favourite sauce.
Sweet and gooey Braaied Bar One Banana S' Mores
It's time for something sweet! When we think of easy braai desserts we think of toasted marshmallows over the fire, but there's plenty of creative ways to have deliciously toasted desserts. Like bar one bananas s' mores, toasted over the flames to have a sweet, decadent gooey centre. It's to die for!
Ingredients:
Bananas (as many as required)
A pack of mini marshmallows
Roughly 1 Bar One to 2 bananas.
Method:
Layout your banana (skins on) on its side, before cutting lengthwise through the skin. Don't cut all the way through, just enough to open the banana on one side. Then, chop your bar one into slices, and stick them and your mini mallows inside the cut you've made in the banana. Don't be afraid to wedge it in there. 

Once you've generously stuffed your bananas with chocolate and marshmallows, you can either wrap them in tinfoil if you're concerned about the leaking chocolate, or you can place them on the grill to toast over a medium to low heat. The skin will blacken, and that's okay! Remove once the chocolate and bananas have softened and are nice and toasty.

Serve with ice cream or on biscuits for some extra crunch.
Note: You can change the chocolate if you prefer a different brand, or even better if you're watching what you eat, you can enjoy this dessert with sugar-free or dark chocolate.
Try these delicious and simple recipes on your next camping trip to really enjoy braai kos with a difference. It's always exciting to try new things, and what's better than easy, no fuss camping recipes? If you have any fun and easy camping recipes up your sleeve, feel free to share them with us and your fellow campers.