Camping often involves participating in a variety of activities, such as hiking, fishing, and swimming, and the best way to cap off an exciting day is with a satisfying, traditional South African meal. Setting up a small camp kitchen at your campground will make preparing these meals more fun and simple, plus you'll feel more at home while camping outdoors. You want to enjoy your camping trip to the fullest, so why not make meals a highlight rather than a chore The following advice will help you build a top-notch camp kitchen, including what supplies to have on hand, how to prepare ahead of time, how to set up camp, and how to improve your outdoor cooking skills.
Essentials For A Camp Kitchen
A fully equipped camp kitchen will provide limitless alternatives for meals, but a basic setup may be created with only a tin can and a campfire. Whether you are a single person a large family spending time outdoors, we have what you need to create the perfect outdoor kitchen. 
Tableware for Camping
Although single-use products are inexpensive, there is a significant environmental cost associated with using them. Disposable plates, glasses, and cutlery may be a quick cure. Instead, invest on reusable plates and utensils that you can use at home, at parties, on picnics, at the beach, and even when you're not quite ready to deal with the sink full of dirty dishes. A mess kit, which comes with several necessary things including a cup, bowl, plate, and silverware, is one way to go.
Shop Here: Camping Plates + Bowls
Cookware for Camping
Today's outdoor cookware is manufactured using heat distribution technology and dishwasher-safe materials, making it far more durable than the easily dented aluminium pots and pans of the past. While you may invest in a full set, any standard setup should at the very least have a sizable pot and a sizable pan. Hart Z2 Aluminium Pot is a better choice if you want to cook over an open flame since it has more capacity and depth than a traditional frying pan and is thus more adaptable. To keep your paws safe, don't forget to bring a pot holder!
When camping, multifunctional cookware is the way to go. A 10-inch cast iron skillet and a Dutch oven are two basic pieces of equipment that may be used to cook just about anything outside. Every campfire cook should bring these essential items in their bag before heading out into nature. They are the MVP items. If your frying pan doesn't work for you, think about acquiring one with a portable handle if you're concerned that it will take up too much room or weigh too much. Another excellent multi-purpose appliance is a MSR Alpinist, which can boil water for tea, heat water for dishwashing, create pasta sauce, and cook noodles. The Stanley Adventure Full Kitchen Base Camp Cook Set is the perfect cook set, containing all the basic you need for your camp kitchen. 
Shop Here: Camping Cookware
Camping Stove
While cooking over a campfire has a lot of appeal, adding a camping gas stove to the mix gives your kitchen setup more adaptability and ease. While one-burner stoves are great for small-scale food preparation and hiking, a two-burner gas stove will let you multitask if you're usually automobile camping. A gas stove windshield will assist cut down on cooking time and increase fuel economy. Carrying matches or a lighter will guarantee that you are not left in the dark if the ignition button on your contemporary stove breaks. CADAC has a range of gas cylinders of different sizes which will be perfect for any camp cooking setup. The Alva Gas Level Indicator is an inexpensive accessory that may help with gas management. 
Shop Here: Camping Stoves & Accessories
Camping Drinkware
Even when camping outdoors, we need our warm coffee or tea in the morning. You could invest in a cast iron kettle, a stainless steel coffee pot, or an aluminum kettle. The Stanley Classic Perfect-Brew Pour Over Coffee Filter is the perfect way to brew ground coffee as this is a stainless steel pour over coffee filter. It's important to always have a water bottle for each person, ensuring the whole family stay safe and doesn't get dehydrated. It's also always handy to have an insulated flask handy to keep your drinks warm for longer periods of time.
Shop Here: Camping Drinkware
Storage
No matter how well-organized you are, your camp kitchen will inevitably get disorganized in the absence of drawers, storage areas, and a counter. There are several tubs and drawers available, and each offers something unique. You keep your food, bulky cooking tools, and camping essentials like toilet paper and Kleenex here. Make sure that everything you use for storage in your camp kitchen can be sealed securely. Your food will be kept free of insects, dust, or birds thanks to it. 
Shop Here: Food Storage
Cooking Utensils
It's likely that you'll want many of the same cooking utensils when cooking outdoors as you do at home. The importance of a decent chopping knife and cutting board cannot be overstated, but you should also consider adding a whisk, peeler, stirring spoon, spatula, tongs, corkscrew, can opener, measuring spoons, and measuring cup to your kitchen arsenal.
Cleanup
You desire to have everything you could possibly need. It literally implies that a "sink" at a camp might be anything from a plastic tub to a large bucket to a portable sink. These are in helpful for carrying goods and fetching water in addition to soaking and cleaning dishes. The Oztrail Camp Kitchen With Sink is the perfect compact kitchen to add to your camp site. It's important to pack all your cleaning materials, such as biodegradable soap, a dish scraper, a sponge, dish towels, and cheesecloth. It's takes less space to pack a reusable napkin, than packing a bulk pack of napkins and serviettes for your camping trip. Trash bags are vital for keeping your camp site clean. Always be responsible by respecting the natural spaces. DO NOT LITTER or leave trash lying around. 
Shop Here: Trash Management3
Coolers
Having coolers on hand is the perfect way to keep food fresh and drinks cold. Camp and Climb stocks a wide range of soft shell and hard shell coolers, which can be used in a different ways, depending on your outdoor adventure. The National Luna Legacy Smart NL90 Stainless Steel Fridge/Freezer  is the ultimate in outdoor cooling. With a twin thermostat and dual compartment, this fridge/freezer combo is perfect for longer camping trips or when you need to pack large amounts of food that need to stay cold like meat. The Coghlans Cooler Light is a nifty little gadget that works just like a fridge light, lighting up when the lid of the cooler is lifted and goes off when the lid is closed. This is a great way to ensure your cooler stays shut, preventing foods from being spoilt by heat or treats and ice melting.
How to Set Up a Camping Kitchen
One of the most enjoyable aspects about camping is eating outside. Cooking meals when camping, however, might be the most irritating activity if your camp kitchen is not properly set up. 
Choose a Location for Your Camping Kitchen
You should first choose a location for your camp kitchen. Where should it be?
In places with less heavy traffic. It shouldn't be in locations like just in front of the tent or next to the automobile.

Close to where you'll be eating

Have a windbreak or natural shade if you don't have a cooking tent.

Flat terrain
Organizing Your Camp Kitchen
Keeping your camp kitchen gear organized in a dedicated space, will help relieve frustration. Storage containers made of plastic or metal are in helpful for keeping your camping gear arranged, safe, and clean. You may put all of your kitchen-related camping gear in one secure, portable camping box with the aid of storage containers. Use storage bins to keep everything together and leave these storage bins in a the dedicated kitchen area so that everyone from the camp site knows where to find what they may be looking for. This way everything will be close on hand when cooking, so you don't have to go on a wild goose chase every time you need something for cooking.
Place Items Properly – Safety First
Consider how you will place your cooking gear after creating the space for it. Keep the items you use the most close at hand and the ones you use less frequently a little farther away. If at all possible, keep your camp stove on a solid, sturdy table. Consider a foam floor mat which can be put together according to your setup as they fit together as a jigsaw puzzle. This Floor mat may help level out ground that isn't completely flat, and may help make your cooking table a little more sturdy. 
Stoves shouldn't be set up on the ground in general. Cooking will require uncomfortable hunching over, and it's dangerous. Make sure all safety measure are followed with regards to gas cooking equipment. Keep sharp objects out of reach from children and animals. 
Keep It Simple
The last thing you want to do is spend time cleaning and arranging your camp kitchen, which can easily get unorganized. Be as basic as you can by carrying only one cup, one mug, and one place setting per person, avoiding large grocery purchases, arranging meals in advance that call for the same kitchenware, and assessing your needs before packing. Don't put off doing the dishes till after the sun has set. It will be challenging to see, the food will cling and be more challenging to clean, and there's a chance that animals may swarm around them. As soon as you finish eating, complete them!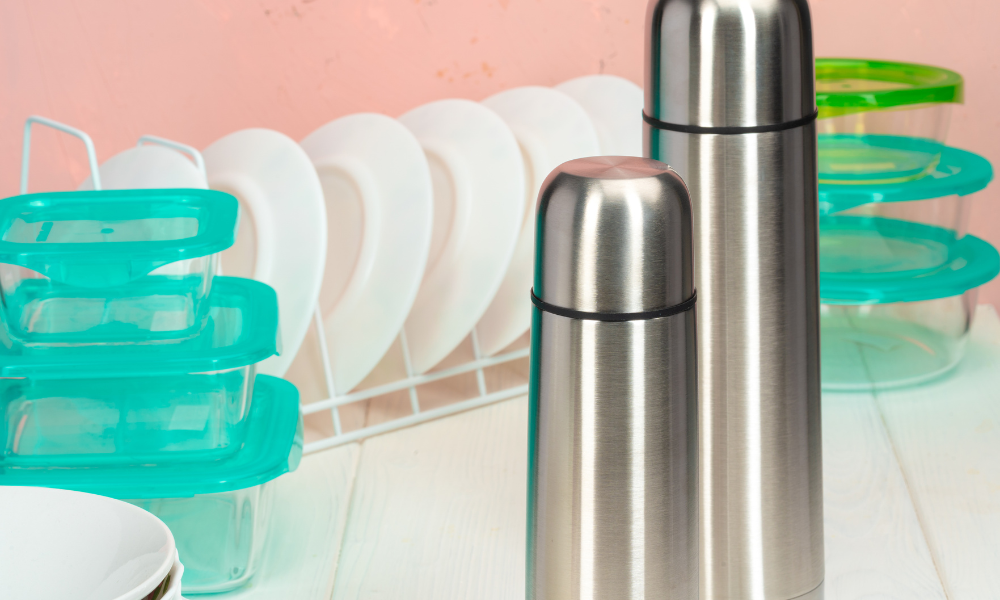 Wrapping It Up
You must have the necessary camping gear if you want to cook while you are camping whether you're in an RV, camper trailer, or a camping tent. Camp cooking may be enjoyable, but only if you are ready, organized, and equipped with the necessary supplies. You don't worry about the mess when you organize your camp kitchen effectively. Instead, you'll enjoy a fantastic time of relaxation while preparing delicious meals for your loved ones.
Have you seen our other blogs on camping?